Diploma in Personal Training
Diploma in Personal Training
(10 Certificates)
3 Months Program
ACE Syllabus Modules
​
300+ hours of Live Online Classroom Lectures
​
1 Week Offline Practical Classes (Optional)
​
5 Days -
Mon Wed Fri - 2pm to 4pm,
Sat & Sun - Time : 10am to 2pm
​
Live Classes will also be recorded to be watched as per convenience
certificate from Prehab 121 academy
Diploma in
Personal Training

Certified Personal Trainer


​
Where can I work after completing my Diploma in Personal Training?

You can apply to work as a
- Virtual Coach/Online Trainer
- Strength & Conditioning Coach / Athletic Coach
- Functional & Group Trainer
- Gym Owner/Self-Employed
- Corrective Exercise & Injury Prevention Specialist
- Sports & Exercise Nutritionist
- Gym/Health Club
​
Certificates from

ACE+ ACSM

approved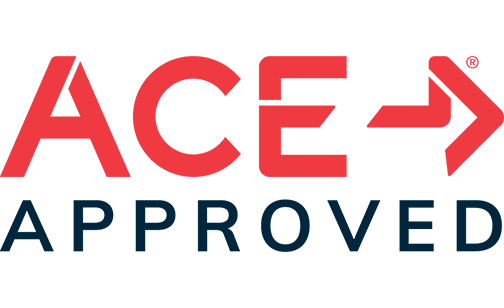 Sports & Exercise Nutrition

Prehab & Rehab Specialist

Posture & Functional Corrective Exercise Specialist

Strength & Conditioning Training Specialist

Functional & Group Training Specialist

Suspension Training Specialist
Certificates from

ACSM


approved
Olympic Weightlifting Specialist

Kettlebell Training Specialist
Rs 35,000/-
​
Early Bird Offer
Rs 25,000/-
(Valid till 10th August)
​
USD $400
(For non Indian Students)
Diploma in Personal Training Course is specially designed to provide the most current, highest quality education available. You will learn the latest evidence-based exercise science fundamentals, principles of behavior change and client-centered methodologies you can apply from the start.
​
This course provides in-depth knowledge to understand the body's muscle and skeletal structure and how they respond to exercise and movements. The course content has been designed to develop your appreciation of the human body and its functions so that upon successful completion you can instruct clients on the importance of a healthy lifestyle in addition to a regular workout program. ​​
​
In this diploma course we will teach how a Personal Trainer develops and implements a fitness training program through one-on-one interaction with the client to minimize gym related injuries, lose unnecessary fat, eat healthy food, get stronger, improve physical performance so that the clients can achieve their specific goals.
​
Learn how to assess a client's unique body structure and how it reacts to movement. This course will teach you effective communication skills which will help you explain the client about the necessary lifestyle changes needed and provide personal direction so they can see real long-lasting results.
​
​​
Module 1 - Anatomy, Physiology, Biomechanics & Assessment
Human Anatomy

Exercise Physiology

Cardiovascular Physiology

Exercise & Functional Biomechanics

Musculoskeletal Assessment

Cardiovascular Assessment

Postural Assessment

Functional (Prehab Assessment Tool)
Module 2 - Personal Trainer
Role and Scope of Practice for the Personal Trainer

Principles of Adherence and Motivation

Communication and Teaching Techniques

Integrated Fitness Training Model and its practical application

Functional Programming for Stability-Mobility and Movement

Resistance Training: Programming and Progressions

Cardiorespiratory Training: Programming and Progressions
Module 3 - Injury Prevention, Rehabilitation & Return to Sports
Common Musculoskeletal Injuries

Prehab 121 protocols for Intermediate to late stage exercise programs - Activation, Early Strengthening, Advanced Strengthening, Plyometrics, Return to Sport Exercises

Role of criteria based progressions

Return to Sport Testing

Injury Prevention Programs

Corrective Exercise Strategies - Inhibitory, Lengthening, Activation & Mobility

Rationale for Corrective Exercise
Module 4 - Nutrition for Sports and Performance
Introduction to Sports & Exercise Nutrition

Macronutrients & Micronutrients, Water & Electrolytes

Body Composition, Energy Systems

Effects of Exercise on various Body Systems

Energy Requirements for Athletes

Dietary Supplements & Sports Performance

Pre & Post Workout Nutritions

Diet Planning & Management
Module 5 - Strength and Conditioning Training
Athlete Assessment & Evaluation

Coaching Principles

Periodization + Long Term Athlete Development

Plan, Prepare and Deliver Strength and Conditioning for Sport

Designing Individual Strength and Conditioning Sessions

Designing A Proper Strength Training Warm-Up
Module 6 - Sports Functional Training
Introduction to Functional & Group Training

Equipment used in Functional Training

Basics of Functional Training

Four basic foundation of Human Movements

Basis for Functional and constructive Training

Operating Functional Intensity

Functional workout with Body Weight, Bands and Pulleys

Functional workout with Dumbbells and Kettlebells

Functional workout with Medicine and Stability Balls

Functional workout with Agility ladder, Hurdles and Battle ropes

Functional & Group Program Designing

Functional Training Variables

Periodization Cycles for functional training
















Next

Batch Starts - 25th

June

2022

onwards
Module 6 - Performance Enhancement
​Olympic Weightlifting + Kettlebell Training
Understanding & Learning the Lifts

Recognize Squats, Deadlift errors

Prep for Hang Clean, Power Jerk, Power Snatch

Grip pattern, Foot position, Transition

Foundations and Basics of Kettlebell

Types of Movement
​
Suspension Training​
Suspension Coaching & Foundations Movements

Warm up, Setup & Anchoring

Rationale & Suspension Variations

Plank, Pull, Push, Rotate, Hinge, Squat Pattern
​
​
​
For more information & Registration -
Call/ Whatsapp - +91 9765705580
​